OVERVIEW
Zhejiang Daming Refrigeration Technology Co. Ltd is a technical private enterprise specialized in researching into, designing, producing and marketing of refrigeration compressors and units. It has the semi-hermetic refrigeration compressor brand "Jinming", scroll refrigeration compressor brand "SCROLL" and semi-hermetic screw refrigeration compressor brand "RFC".
Company has the first-class refrigeration compressor production base in China,with plant more than 20,000 square meters, the introduction of a variety of imported advanced processing equipment, set up modern refrigeration compressors and condensing unit assembly line, and equipped with professional warehouse center and logistics distribution center.
The company has more than 30 years of refrigeration compressor manufacturing experience, formed an international and domestic refrigeration elite technical team, strong technical force. It also employs professional management consulting organizations to establish a modern efficient management mode to improve the management level of enterprises.
The company aims to "Build a famous brand of China, Create a hundred years enterprise" and follow the management philosophy of "Quality-oriented,Innovation-focused".Make high-quality products with ingenuity. Seek unlimited energy with innovation.Strive to make "Daming refrigeration" a famous brand,to be the top refrigeration compressor manufacturer in China.
Daming— Frozen scroll compression technology provides superior solutions for freezing applications.
Scroll compressor is the ideal choice for high reliability, high energy efficiency and compact system design.
DM series can provide products of 3hp-15hp, and its applicable refrigerants include R22, R404A, R134A, etc.
Features & Advantages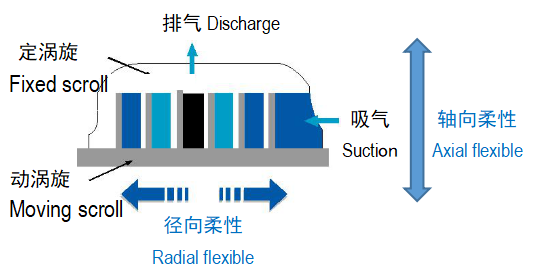 Double flexible design
Make sure the seal between the scroll discs.
Allowing the scrolls to be radially and axially separated,
debris or liquid may pass through the scrolls without damaging the compressor.
*Higher usage time and reliability.
*Better liquid tolerance.
*Better impurity tolerance.
High energy efficiency ratio
The scroll disc is running in rather than worn
*Increased performance with running time.
*High volumetric efficiency
Lower noise & vibration levels
Smooth sound spectrum & soft sound quality
*Compression chamber is always symmetrical
*Very low unbalanced stress
*High-precision manufacturing process
*No vibration absorption device
High strength metal composite bearing
*Space-age materials
*Porous bronze.
*PTFE coating
*Extend the running time without full lubrication
*Very small coefficient of friction
Unloading startup technology
The compressed parts are separated from each other after the shutdown to balance the internal pressure of the compressor,without the need for additional starting device.

Cooling Capacity(C/C)
380V/420V,3Phase,50Hz, R404A
NOTE:1.Test Condition: Suction gas temperature18.3°C, supercooling degree 0 K
2.The lowest evaporation temperature : -12 ℃
Technical Data
380V/420V,3Phase,50Hz
DM86HE-T3F-G01/DB38KE-T3F-G01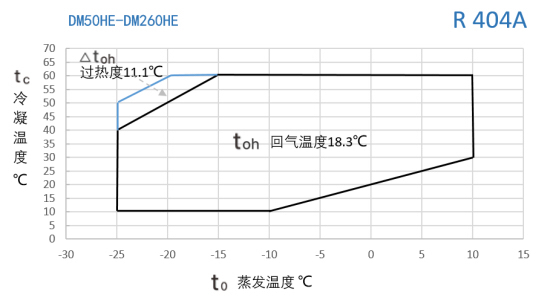 Welding interface & Oil sight glass